How to Create a Healthier, Happier Holiday Season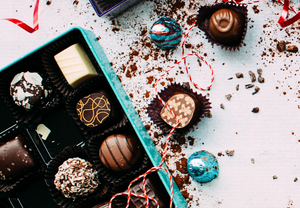 10 Lifestyle Tips to Keep You in Tip-Top Shape
When food is all around, shopping lists are overloaded and time is hard to come by, it's not easy to stay in control of your weight and your sanity. As a way to 'cope' with it all, many of us give ourselves a 'free pass' to indulge our way through December...and then deal with the unfortunate outcome (weight gain, stressed skin, etc.) in the new year.
But, what if there was a way to stay calm, in shape and deliciously satisfied throughout the party season, so you don't have to do damage control later? Read on to find out how to relish the holidays, while keeping your body and mind balanced:
Eat More Protein
If maintaining your weight is your goal, then adding more protein and reducing the amount of carbs you eat is one of the best things you can do. Protein will help you maintain a steady blood sugar level, thereby minimizing cravings and mindless snacking.
Go Slow & Select Wisely
At the party, you don't have to 'be polite' and sample everything. When you're selecting food off the party buffet, be mindful. If you spend a little more time considering the foods that would really make your palette happy, you'll exclude a lot of the food that you don't really care for. And, by doing that, you'll avoid excess calories. If you take a bite out of something and it doesn't thrill your taste buds, stop eating it.
Offer Up Something Healthy
If you're going to a potluck party, choose a dish that is both yummy and waistline-friendly. There are many crowd-pleasing healthy recipes out there. Remember that most guests will choose to bring something that's decadent and over the top. Your hosts will appreciate you for bringing a healthy option that balances out all of the heavy food.
Stay Hydrated
At the party, every time you set down your cocktail glass, pick up your water glass and sip away. For every alcoholic beverage, drink one to two glasses of water.
Shift Your Focus
The holidays will always be stressful. There will always be decorations to put up, cards to send and presents to buy. That won't change. The best thing you can do is shift your focus to what the season is really about. Maintain daily entries in your gratitude journal and find time during the day to relax.
Stick With Your Supplements
Are you on a daily supplement regimen? If so, sticking with your regular supplement routine is especially important around the holidays. When you're eating an assortment of different party foods, supplements like ​magnesium can help support digestion, while herbs like ashwagandha can help support stress management. Always consult your doctor before introducing any new supplements into your diet.
Check In With Yourself
How are you feeling? Angry at a family member? Your spouse? Your kids? Stifling your emotions is never a solution, and may result in emotional eating. Acknowledge how you feel by writing it down in a journal. Immediately afterward, you may feel your mood start to brighten. Reinforce those brighter feelings by doing something for you, like taking a long bath, to allow time for clarity.
Work Your Body
Can you squeeze in 20 minutes a day to workout? Ten minutes a day? Get in the habit of engaging in at least a little movement every day. Have a range of tools in your toolkit so you can get it done and avoid excuses. Tools may include light weights, resistance bands, yoga mat, workout DVDs and a workout partner to help you stay accountable.
Go for Green
Drinking a refreshing green juice can cut out random cravings, while treating your body to an abundance of vitamins. If you don't have a juicer or juice bar nearby, consider ​a green supplement​. It's an easy way to get a big serving of a variety of superfoods without having to mix powders and create your own drink.
Nurture Your Whole-Body Health Now
Follow these ten tips and you'll not only be able to handle the holidays with ease, but maintain the weight you're comfortable with. If you take small steps to nurture your whole body during the holiday season, you're less likely to be stuck with regret come January.
Leave a comment
Comments will be approved before showing up.