7 Superfoods That Soften and Hydrate Your Skin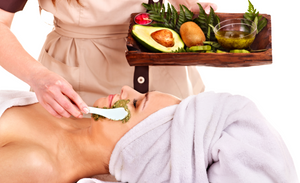 From cleansers to masks, skin care products are getting a natural upgrade. More and more beauty brands are incorporating superfoods into their formulas and for good reason. Many fruits and vegetables are just as good for the health of your skin, as they are for the overall health of your body.
Hydration is essential to achieving that healthy, glow-y vibe, but the trick is figuring out which "green" ingredients deliver the goods. If you want to make the move to natural skin care, here are seven hydrating hero ingredients that you should look for on the labels.
Avocados
Avocados are all the rage not only because they're delicious, but also because of their impressive nutritional profile. These decadent fruits are high in antioxidants, full of good-for-you fats, and are very rich in dietary fiber, vitamins and minerals. As a face treatment, avocado can be incredibly hydrating, as well as nourishing and calming. For deep moisture and a beautiful glow, mix half an avocado with a bit of honey and a pinch of skin-brightening turmeric. Leave on for 15 to 20 minutes, then rinse off with lukewarm water. The natural oils in avocados can deeply penetrate the skin to soften dryness and the appearance of lines. Avocados also contain lutein, a carotenoid that promotes skin elasticity, while oleic acid and chlorophyll help to tame redness.
Kale
If you hate to eat or drink kale, there's another way to get your fix. Skin care brands are featuring this hearty green in their moisturizers and other products so that dry, lackluster skin can reap the rewards. Providing a surge of vitamins and minerals, kale can hydrate and tighten skin, while enabling the turnover of cells. As a beauty bonus, the presence of vitamin K reduces inflammation and encourages blood flow, which helps to minimize the look of dark under-eye circles.
Manuka Honey
Manuka honey, a specialty honey native to New Zealand, is antibacterial and super moisturizing, making it a great option for a daily cleanser or DIY face mask. Dilute a tablespoon of Manuka honey with a bit of warm water. Gently massage the mixture into your face and neck using your fingertips. Rinse off and pat dry.
For a facial, mix a teaspoon of Manuka honey with a teaspoon of plain Greek yogurt. Apply the mixture to your face and leave it on for 10 to 15 minutes. Wash with warm water to remove.
Olive Oil
Packed with anti-aging antioxidants and hydrating squalene, olive oil is a moisturizing go-to for hair, skin and nails. Out of makeup remover? No problem. Apply EVOO to a cotton ball and wipe it across your skin. Looking for a luxe face mask? Mix olive oil with honey or ground oats and apply it to your face (avoiding the eye area) for instant softness and glow.
Pumpkin
While you're making those pumpkin pancakes, reserve a spoonful of the puree for a glow-ifying mask. Pumpkin flesh has fruit enzymes and alpha-hydroxy acids that remove dead skin and banish dry patches. Whether your skin is dry, oily, sensitive or acne-prone, pumpkin is a delicious way to reveal a more radiant complexion.
Colloidal Oatmeal
A finely ground form of oats, colloidal oatmeal has lots of skin-softening credibility. First, it's a super emollient, helping to soothe the cracks in rough, dry skin. Secondly, it's a humectant, which means it draws moisture from the environment into your skin. Lastly, it contains lipids, which reinforce the skin's protective barrier. All of these factors contribute to a silkier, hydrated complexion.
Watermelon
Your favorite summertime fruit is also a cooling, skin-quenching treat for your skin. Look for products containing watermelon seed extract, an ingredient that's incredibly hydrating and contains glow-promoting fatty acids.
Hydrate Your Skin From the Inside Out
While you're at it, don't forget to get your greens, which are full of skin-loving vitamins and nutrients. For a nutrition boost first thing in the morning, sneak a green powder into your a.m. smoothie, or better yet, take a greens supplement.
Want smoother, hydrated skin? The secret may be at your grocery store. Add any of these seven superfoods to your shopping list, apply them to your face as directed and get ready for a natural skin revival.
Leave a comment
Comments will be approved before showing up.