7 Easy and Delicious Turmeric Recipes to Spice Up Your Meals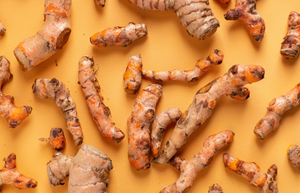 Turmeric is an essential spice in today's modern kitchen. Its mild flavor makes it tremendously versatile and gives earthy umami flavor and bright golden color to the dishes you use it in. Having gained a reputation for its wellness supporting properties, turmeric is increasing in popularity and is easy to love. 
Have you tried turmeric yet? You may find the name unfamiliar, but turmeric is actually the main ingredient in some well-known, common foods. Likely, one of the most common ways you've enjoyed turmeric is in...what?! A Burger or hot dog?
That's right–turmeric is often used in traditional yellow mustard. It is the key ingredient that intensifies mustard's familiar bright yellow color. But what exactly is turmeric?
Turmeric 101
The spice comes from the root of the turmeric plant. It is native to South Asia and is commonly used in Indian, Asian, and Middle Eastern foods. It is a close relative of ginger and, although they are in the same family, their flavors are distinctly different. Turmeric has a mild, earthy, peppery, and somewhat bitter flavor. 
It's surprisingly less spicy than its cousin ginger. In fact, turmeric is often used in Indian curry dishes, not because it adds a spicy flavor, but for its coloring and unique bitter taste that adds dimension to the flavor of curry dishes.
If you've ever wanted to try turmeric or are looking for new ways to add turmeric into your diet, the following recipes are for you. They offer you a flavorful variety of turmeric recipes from appetizer and salad to main course and dessert.
Plus, see the note at the end if you have sensitive digestion for an easy way to gently incorporate turmeric into your meals.
Turmeric Chicken & Mango Lettuce Wraps (Adapted from Food With Feeling)
 Ingredients:
1 ½ tbsp coconut oil
4 chicken breasts
½ tsp dried turmeric (ground)
¼ tsp garlic powder
1 large ripe mango (cut into 1-inch chunks)
2 tbsp lime juice
¾ cup red onion (thinly sliced)
Salt and pepper to taste
Butter or romaine lettuce
1 cup of carrots (grated)
1 avocado (peeled and diced)
Turmeric Lime Vinaigrette (recipe below) to top it off
Directions:
In a large skillet, heat the coconut oil over medium-high heat. Add the chicken and season with turmeric and garlic powder.
Cook the chicken about 5 minutes until the outside begins to brown on both sides.
Add the mango chunks, red onion, and lime juice and stir together. Continue cooking until the chicken is cooked all the way through.
When done, take the chicken off the heat and set aside to cool. Then cut the cooked chicken breasts into slices and return to the turmeric and mango mixture and combine.
To assemble the wraps, spoon the carrots and zucchini into the lettuce leaves and top with the mango chicken mixture.
Optionally, drizzle Turmeric Lime Vinaigrette over the top of each wrap to serve.
Kale and Turmeric Chickpea Salad (Adapted from Pure Wow)
Turmeric Chickpea Ingredients:
1 (28 oz) can chickpeas, drained
2 tbsp avocado or olive oil
Zest of 1 lemon
½ tsp dried turmeric (ground)
½ tsp smoked paprika
Salt and black pepper
Salad Ingredients:
1 large bunch of kale (stems removed, and leaves chopped)
¼ cup parmesan cheese
Turmeric Lime Vinaigrette (recipe below)
Directions:
Preheat the oven to 400°. Line a baking sheet with parchment paper. In a large bowl, combine the chickpeas, oil, lemon zest, turmeric, and paprika together. Season with salt and pepper.
Evenly spread the chickpeas on the prepared baking sheet and roast for 40-45 minutes until they are very crisp. Stir the chickpeas once or twice while they are cooking. Allow them cool to room temperature.
In a large bowl, toss the kale with the Turmeric Lime Vinaigrette (recipe below) to coat. Add the crispy turmeric chickpeas. Use a vegetable peeler to shave the Parmesan to make large curls and add to the salad. Serve immediately.
Turmeric Lime Vinaigrette
Ingredients:
Juice of 1 lime
1 clove of garlic (minced)
2 tbsp apple cider vinegar
2 tbsp water
3 tbsp coconut aminos
¾ cup olive oil
½ tsp dried turmeric (ground)
Sea salt to taste
Directions:
In a jar or salad dressing container, combine all the ingredients.
Ingredients:
1 tbsp coconut oil
1 pound ground pork
1 tsp sea salt
2 tsp dried turmeric (ground)
2 tbsp fresh ginger (grated or finely minced)
½ cup coconut milk (unsweetened)
1 carrot (thinly chopped)
3 parsnips (thinly chopped)
4 cups greens–kale or spinach (or a mixture of both)
¼ cup fresh cilantro (chopped)
¼ cup fresh mint leaves (chopped)
2 green onions (green parts only, chopped)
Juice of 2 large limes
Directions:
This recipe comes together quickly, so it's best to start with all the ingredients prepped and ready to put together. Peel and chop parsnips, carrots, ginger, onions, and herbs.
Heat the coconut oil on medium heat in a large skillet.
Add the ground pork, salt, turmeric, and ginger. Crumble the meat while stirring and cook until the meat is cooked through.
Add the coconut milk, parsnips, and carrots. Let cook for a few minutes until the parsnips and carrots are tender.
Add the greens and stir letting them wilt down.
Add the mint, cilantro, and lime juice and cook for 1 minute longer.
Add fresh green onions and a squeeze of lime to garnish.
Serve with plain jasmine rice or Moroccan Cauliflower Rice for a paleo, low-carb option (recipe below).
Moroccan Paleo Cauliflower Rice
Ingredients:
1 tbsp coconut oil
2 cups cauliflower, chopped
1 tbsp dried turmeric (ground)
1 tsp garlic powder
½ cup golden raisins (unsweetened)
2 tbsp coconut milk
Sea salt and black pepper to taste
Handful fresh dill (optional)
Directions:
Heat coconut oil in a skillet. Add in chopped cauliflower and stir. Cook until it starts to soften.
Add in turmeric, garlic powder, raisins, and coconut milk. Cook on medium-high heat, stirring occasionally until cauliflower is completely cooked.
Garnish with fresh dill and serve.
High-Protein Turmeric Piña Colada Cake
Ingredients:
⅓ cup coconut flour
⅓ tsp baking soda
½ tsp sea salt
¾ tsp dried turmeric (ground)
½ cup honey or maple syrup
2 tbsp lemon zest
1 tbsp lemon juice
2 tbsp pineapple juice
¾ cup plain Greek yogurt
4 large eggs
½ cup coconut oil (melted)
Fresh or canned pineapple, lightly crushed for topping (optional)
1 tbsp sugar for topping (optional)
Rum extract (optional)
Directions:
Preheat the oven to 350°. Using a 9" × 5" loaf pan, line with parchment paper with enough overhang to make it easy to lift the finished cake out when done.
In a bowl, whisk together the flour, baking powder, salt, and turmeric.
In a large bowl, combine the half cup of honey with the lemon zest and whisk together until well-combined. Then whisk in the yogurt, eggs, fruit juices, and extract.
Add the wet ingredients to the dry flour mixture and stir until combined. Fold in the melted coconut oil. Pour the batter into the prepared loaf pan and smooth out the top.
Evenly sprinkle the tablespoon of sugar on top to create a caramelized crust.
Bake until golden-brown and a toothpick comes out clean, which takes about 50-60 minutes. If the top is browning faster than the inside is cooking, cover with aluminum foil. Let cool and slice to serve. Enjoy with a hot mug of Turmeric-spiced Pumpkin Caffe Latte (recipe below).
Turmeric-Spiced Pumpkin Caffe Latte
Ingredients:
8 oz coffee, brewed
1 tbsp canned pumpkin
¼ cup coconut cream
½ tsp ground turmeric or Tumeric Paste (recipe below)
½ tsp ground cinnamon
½ tsp ground ginger
Pinch of black pepper
¼ tsp maple syrup or honey
Directions:
Combine all ingredients in a blender. (For a caffeine-free turmeric latte, you can replace the coffee with hot water to thin the coconut cream to your desired consistency.)
Blend on low for 10 seconds.
Reheat for 20-30 seconds in the microwave or on the stove until it starts to steam if needed and enjoy.
*Note: Uncooked turmeric can cause digestive problems in some people. You may want to try making Turmeric Paste to use in place of the dried, ground turmeric in the latte recipe above to make the beverage easier to digest.
Turmeric Paste
½ cup water or non-dairy milk of your choice
¼ cup ground turmeric powder
You can make a simple turmeric paste by combining both ingredients in a pan. Warm over low heat and stir well until it forms a paste and thickens up. Turn off the heat and let cool. 
If you've used only water in your Turmeric Paste, you can store it in your refrigerator in a jar for up to two weeks. If you've included milk, though, it's better to limit your storage to about 3-7 days.
Ready to Spice Up Your Meals With Turmeric?
Don't just use the turmeric powder in your cupboards to make curry dishes. Use this versatile ingredient to spice up a wide variety of everyday meals. These recipes are just a few of the many ways to use dried, ground turmeric because it's often easier to find than fresh. 
If you want to give fresh turmeric a try, substitute one tablespoon fresh turmeric for one teaspoon of dried. Just be careful because fresh turmeric (like dried turmeric) tends to stain everything it touches yellow.
You might also be interested in these products:
Premium Uric Acid Support Supplement
Leave a comment
Comments will be approved before showing up.