6 Starter Collagen Recipes for Beginners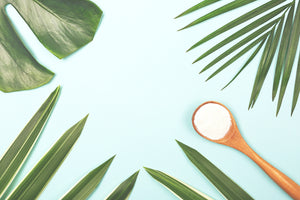 Are you using collagen in your recipes yet? It may seem like an unlikely ingredient to cook with, but collagen is no longer just being used in beauty products promising younger-looking, firmer skin. 
In recent years, collagen has been introduced into the culinary world as an edible powder to thicken soups and desserts, add protein to smoothies or even coffee, and to be used in several other creative ways.
What is Collagen?
Collagen is the main protein that makes up our bodies. Our bones, joints, cartilage, skin, and hair all contain collagen. Collagen powder is a natural thickening agent and has more protein per calorie than other sources of protein while containing less sugar and sodium. Collagen is a stable protein, so it can be cooked at high temperatures without destroying its nutrients. It can be added to high-heat recipes such as baked goods or soups to boost the protein content without changing the flavor.
Are collagen peptides the same as collagen powder? No. Collagen powder, also called gelatin, is a little different from collagen peptides. They both come from the same source but are processed differently. Collagen powder gels and thickens, while collagen peptides are better used in cold drinks such as smoothies and iced teas. They can both be used at high temperatures, but collagen peptides will not gel or thicken.
Here are just a few ideas of how to use collagen powder in your recipes, including a recipe for bone broth which is a smart way to naturally extract collagen from bones through slow-cooking.
Tropical Collagen Smoothie
Ingredients:
1 cup strawberries
½ cup pineapple
1 banana
2 cups orange juice
½ cup Greek yogurt or coconut yogurt
1 cup spinach or kale
2 tbsp collagen powder or collagen peptides
Directions:
Combine all ingredients in a blender. Blend until smooth or your desired consistency.
Collagen-Chia Chocolate Pudding
Ingredients:
1 cup coconut milk
4 tbsp collagen powder
2 tbsp cocoa powder
2 tbsp maple syrup
1 tsp vanilla extract
¼ cup chia seeds
Pinch of sea salt
Optional toppings: Coconut yogurt, coconut whipped cream, strawberries, raspberries, nuts, or seeds
Directions:
In a medium-size bowl, whisk together all ingredients until well combined.
Let the mixture sit in the bowl for 15 minutes, no stirring, to allow the collagen and chia seeds to gel.
After 15 minutes, whisk through the mixture once again. Then cover the bowl and place it in the refrigerator a minimum of 4 hours to overnight.
Remove the pudding from the refrigerator and stir together with a spoon. Serve in small glasses and top with your favorite yogurt, fruit, nuts, and seeds as you like.
Collagen-Filled Bone Broth (Adapted from the Cleveland Clinic)
Ingredients:
4 lbs. of beef, chicken, and/or turkey bones
¼ cup apple cider vinegar
2 bay leaves
1 tbsp sea salt
Filtered water
2 carrots, roughly chopped (optional)
1 medium onion, roughly chopped (optional)
2 garlic cloves, smashed (optional)
1 bunch parsley (optional)
Directions:
In a slow cooker, add the bones and coat them with apple cider vinegar.
Add in the bay leaves and sea salt. Add optional vegetables and herbs.
Add just enough filtered water to cover the bones and vegetables and stir to combine. (Too much water will dilute the collagen and the broth will not gel.)
Set the slow cooker to low and cook for at least 12 hours up to a maximum of 24 hours.
When the broth is finished cooking, discard the bones, herbs, and vegetables. (See the tip below for how to get even more collagen from the bones before you discard them.)
Strain the liquid to remove all solids and store in a glass container or jar.
Refrigerate for at least 3 hours or overnight. The fat will separate and form an opaque white layer at the top.
Once the fat has congealed, skim it off the top. You can discard the fat or store it in a jar to use when cooking.
Store the broth in a sealed container in the refrigerator for up to 4 days. Freeze the broth for up to 1 year.
Tip: To add even more collagen to your broth, don't discard the soft gelatinous parts around the bones or the skin; reserve it and use an emulsifier blender to blend the gelatin into your broth. Strain out any solid pieces. Discard the remaining bones.
Wild Rice Soup with Collagen (Adapted from Vital Proteins)
Ingredients:
2 tbsp avocado or coconut oil (divided)
1 onion (chopped)
2 celery stalks (chopped)
1 tbsp garlic (minced)
2 carrots (peeled and chopped)
2 sweet potatoes (peeled and chopped)
2 cup mushrooms (chopped)
5 cups Collagen-filled Bone Broth (recipe above) or water (use 4 cups if including the optional coconut milk)
4 tbsp collagen powder
2 tbsp rosemary (dried)
2 tsp onion salt
1 cup kale (chopped)
1 ½ cups wild rice
Salt and pepper to taste
1 can coconut milk, unsweetened (optional)
Directions:
In a large pot, heat 1 tablespoon of the oil over medium heat. Add the onions and celery to cook for about 5 minutes until soft. Add the garlic, carrots, sweet potatoes, and mushroom and cook until soft.
Once the vegetables are cooked, add in rosemary, onion salt, and the remaining 1 tablespoon of the oil. Stir together until evenly combined.
For a creamier version, add in the optional coconut milk.
Add the bone broth or water and allow the liquid to heat for a couple of minutes. Once heated, add the collagen powder, and stir well.
Bring to a boil and add in the wild rice and kale and reduce the heat to low.
Simmer for about 40 minutes or until the rice is cooked completely.
Dairy-Free Pasta Sauce with Collagen
Instructions:
1 cup coconut cream (unsweetened)
⅛ tsp dried basil
⅛ tsp dried oregano
⅛ tsp dried thyme
½ tsp sea salt
1 tsp coconut oil
1 tbsp minced garlic
2 tbsp collagen powder
Directions:
In a bowl, combine the coconut cream, herbs, and salt and whisk together. Set aside.
Heat the coconut oil in a pan over medium heat.
Add the minced garlic and sauté briefly.
Add the coconut cream mixture and stir well. Once it reaches a light boil, turn the heat to low.
Add the collagen powder and stir. Cook for a couple of minutes to allow it to thicken.
Cook until it reaches your desired consistency. Serve over pasta, spaghetti squash, or spiralized zucchini noodles.
Carb-Free Collagen Meatloaf (No Breadcrumbs Required)
Ingredients:
½ lb. ground beef
½ lb. ground lamb, pork, or chicken (a combination of meats provides depth of flavor)
1 egg (whisked)
1 small white or sweet onion (chopped)
1 medium carrot (chopped)
½ cup mushrooms
2 cloves garlic (minced)
2 tbsp tomato paste or ketchup
2 tbsp red wine vinegar
1 tbsp dried Italian seasoning
2 tsp soy sauce
2 tbsp dried parsley (optional)
1 tsp paprika (optional)
1 tsp ground black pepper
2 tbsp collagen powder
Directions:
Preheat the oven to 400° and line a baking sheet with parchment paper.
In a food processor, blend the onion, carrot, mushrooms, and garlic. (Or, if you don't have a food processor, grate the onion and carrot and finely chop the mushrooms and garlic.)
In a large bowl, combine all the ingredients, adding the collagen last. Mix well with clean hands or a fork. Rest the mixture for 10 minutes to allow the collagen powder to gel up, then mix again. Portion the meat into 2-4 small loaf shapes.
Place the loaves onto the lined sheet pan and put in the oven for 15-30 minutes, or until the center is no longer pink. A longer cooking time is required for fewer, larger loaves. Allow the meatloaves to cool for 5 minutes before removing them from the sheet pan. Serve with fresh herbs and ketchup, if desired.
Try Adding Collagen to Your Own Recipes!
These are just a few ways to add collagen into various types of recipes. Do you have a favorite smoothie, soup, stew, or sauce recipe? Why not try adding a tablespoon or two of collagen to thicken it for an added protein boost?
You might be surprised at how well it works. You (and your significant other or even your kids) won't even taste the added nutrition!
You might also be interested in these products:
Leave a comment
Comments will be approved before showing up.