5 Popular and Delicious Keto Recipes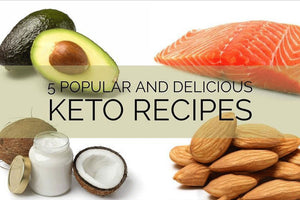 Mastering the Keto Diet involves becoming more knowledgeable about the do's and don't when it comes to food selection. Now that we've given you 10 Foods to Avoid on the Keto Diet, we also want to provide you with delicious easy-to-make Keto Recipes.

As a rule of thumb, your meals should consist primarily of highly concentrated healthy fats, protein and a diverse range of fruits and vegetables.
In addition, the Keto Diet also recommends a high consumption of healthy Omega 3 and Omega 6 Fatty Acids found in oils such as olive oil, coconut oil, fish oil and MCT oil. The two main things you want to avoid almost completely on a Keto Diet are carbs and sugar.
5 Popular and Delicious Keto Recipes:
1. Five Minute Keto Pizza:
INGREDIENTS:

Pizza Crust:

2 large Eggs
2 tbsp. Parmesan Cheese
1 tbsp. Psyllium Husk Powder
1/2 tsp. Italian Seasoning
2 tsp. Olive Oil
1.5 oz. Mozzarella Cheese

3 tbsp. Rao's Tomato Sauce

1 tbsp. Freshly Chopped Basil
DIRECTIONS:
1. Measure out all dry ingredients into a bowl or container that can fit your blender,
2. Add 2 eggs and mix everything together. Make sure you continue blending for about 30 seconds, allowing the psyllium husk to absorb some of the liquid.
3. Heat 2 Tsp. of Olive Oil in a pan over medium-high heat. Once very hot, spoon your mixture into the pan and spread out into a circle shape.
4. Once the edges have started to set and look slightly brown, flip the pizza crust. You can optionally transfer it to a plate and flip from there. Turn the broiler on high in the oven.
5. Cook on the opposite side for 30-60 seconds, then turn the stove off. Spoon 3 Tbsp of Rao's (or other low carb) tomato sauce over the pizza and spread.
6. Add cheese, then put pizza into the oven to broil. Leave a crack open in the oven so you can keep an eye on it. Once it's bubbling, remove it from the oven and leave for 5-10 minutes to cool before enjoying.
 2.

Bacon and Red Pepper Frittatas:
INGREDIENTS:
7 slices bacon
1 tablespoon olive oil
4 large mushroom caps
2 tablespoons fresh parsley
½ cup chopped fresh basil
4 ounces fresh mozzarella, cubed
2 ounces hard goat cheese, grated
1 medium red bell pepper
8-9 large eggs
¼ cup heavy cream
¼ cup Parmesan cheese, grated
Salt and pepper to taste
DIRECTIONS:
1. Preheat oven to 350F. Prep all of your vegetables first. Roughly chop 1 medium Red Bell Pepper, 7 Slices of Bacon, enough basil to turn into 1/2 cup, and 4 large Baby Bella Mushroom caps (remove stems prior to chopping).
2. In a hot pan, add 1 tbsp. olive oil. When the first wisp of smoke appears, add bacon to the pan immediately.
3. Cook the bacon just enough so that it starts to turn brown. Once that happens, add the chopped red bell pepper. Stir well.
4. While the red pepper is cooking, prep the egg mixture. Add 8 or 9 large eggs to a large mixing bowl along with 1/4 cup heavy cream, 1/4 cup parmesan cheese, and freshly ground pepper.
5.Using a whisk, whisk the egg mixture well so that everything is combined.
6. Once your red bell peppers begin to soften, add mushrooms to the pan and stir in well. You want the mushrooms to begin soaking up all the extra fats in the pan.
7. While the mushrooms are soaking up the fats, chop your 4 oz. fresh mozzarella into cubes.
8. Add the basil to the top of your ingredients and let it steam for a moment.
9. Sprinkle the mozzarella cubes on top of all the bacon and veggies. Add your egg mixture to the pan, making sure it's evenly distributed.You want the eggs to be all around and underneath the bacon, red pepper, and mushrooms.
10. Grate 2 oz. of goat cheese over the top of the frittata, the put it in the oven for about 6-8 minutes at 350F. Leave the frittata in the pan and turn the broiler on. Broil for an additional 4-6 minutes, or until the top is started to turn golden brown.


 3.
Miso Salmon:
INGREDIENTS:
1.25 pounds salmon fillets with skin
Kosher salt to taste
3 tablespoons sake
2 tablespoons white wine
3 tablespoons miso, white miso preferred
DIRECTIONS:
1. Cut the salmon up into fillets. I had two large pieces so I just cut these in half.
2. Sprinkle the kosher salt over the fillets and allow to sit for 30 minutes. This will draw out some of the moisture.
3. Wet a paper towel with a tablespoon of the sake and carefully dab the salt off of the fish.
4. Mix the 2 tablespoons of sake, 2 tablespoons of white wine, and 3 tablespoons of miso into a bowl.
5. Pour about 1/3 of the marinade into the bottom of an airtight container. Place the fillets inside of the container then pour the rest of the marinade over the top of them. Place the lid then keep refrigerated for 1-2 days.
6. When it's time to cook preheat your oven to 400°F. Remove the marinade from the fish by scraping it off with your fingers. If there is too much left on then the marinade can easily burn, but you don't want it too clean or the fish wont have enough color.
7. Use a piece of parchment paper on a baking sheet, or alternatively a well greased one. Parchment paper will not let the salmon stick, so try and use that if you can. Bake the salmon for 25 minutes.
 4.
Lemon Cupcakes with Raspberry Frosting:
INGREDIENTS:
2 1/3 cups almond flour
1 teaspoon baking powder
½ teaspoon sea salt
½ teaspoon xanthan gum
2 tablespoons lemon zest
2 tablespoons melted butter
3 large eggs
¾ cup unsweetened almond milk
1 tablespoon vanilla extract
2 teaspoons lemon extract
DIRECTIONS:
1. Preheat oven to 350°F and line a cupcake pan with papers. In a large bowl, whisk together almond flour, baking powder, salt, xanthan gum, sweetener, and zest until combined.
2. Whisk melted butter into the dry ingredients. The mixture should form into coarse crumbs. Add eggs and stir until incorporated. The batter will begin to stick together.
3. Add almond milk, vanilla, and lemon extract and whisk until the batter is smooth.
4. Carefully fill the prepared cupcake papers until they are about ¾ full—about 2 heaping tablespoons for each cupcake.
5. Place cupcakes in preheated oven and bake for 29-32 minutes or until the cupcake bounces back when pressed.
6. Let cupcakes cool on a rack until they reach room temperature before frosting. In a large bowl, whip together cream cheese and butter using an electric mixer.
7. Blend in sweetener and frozen raspberries until combined. Add whipping cream, lemon juice, and vanilla and blend until smooth.
 5.
Flourless Keto Brownies:
INGREDIENTS:
5 ounces low-carb milk chocolate
4 tablespoons butter
3 large eggs
½ cup Swerve*
¼ cup mascarpone cheese
¼ cup unsweetened cocoa powder, divided
½ teaspoon salt
DIRECTIONS:
1. Heat oven to 375°F and line a baking sheet with parchment. Melt 5 ounces chocolate in a glass bowl on medium heat for 30 intervals, stirring each time until smooth.
2. Add butter and microwave the bowl for ten seconds. Stir. Repeat until smooth. Set aside to allow to slightly cool while you prepare the batter.
3. In a large bowl, beat three eggs and ½ cup granulated sweetener on high until the mixture becomes frothy and the eggs become pale. This should take about 3-5 minutes.
4. Add the Mascarpone Cheese and beat until smooth.
5. Sift in half of the cocoa powder (2 tablespoons) and ½ tsp salt and gently mix. The power will resist mixing with the egg so go slow and keep at it.
6. Sift in the rest of the coco powder (another 2 tablespoons) and stir until all of the mixture is dissolved and the batter forms.
7. Make sure you chocolate is still melted. If not, heat for 10 seconds and stir. Fold the melted chocolate into the batter and mix well until it is creamy and there are no lumps.
8. Pour batter in prepared 8×8 pan and bake at 375°F for 25 minutes or until the center no longer jiggles. Remove from pan and cool completely before cutting.
Leave a comment
Comments will be approved before showing up.