10 Simple -- and Simply Delicious -- Ways to Add More Turmeric to Your Diet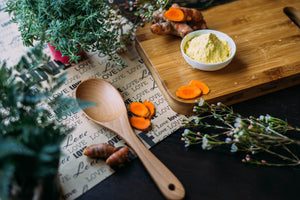 Eating turmeric can benefit your body from head to toe. Here's your guide to getting more of this miracle spice into meals, snacks and drinks. 
You've probably seen countless articles and studies published online about the extraordinary benefits of 
turmeric
. 
But what exactly is
turmeric
-- and what does it do for our bodies?
Although
turmeric
is relatively new to American kitchens, this herb has been used for centuries in other countries to support overall health and wellness. 
Related to ginger,
turmeric
is native to Southeast Asia and sometimes called "Indian Saffron" because of its deep golden color.
Turmeric
's active compound, curcumin, has been studied extensively for its health benefits.
Not only does
turmeric
contain curcumin, but it also contains naturally occurring minerals like potassium, B6, vitamin C, calcium and iron. 
In India, everyone from the general public to ayurvedic practitioners use
turmeric
for a wide range of medicinal reasons. 
By enjoying
turmeric
in your diet more often, you may be able to experience some of the astounding health benefits of this natural healer. And incorporating
turmeric
into the foods and beverages you already love is easier than you think. 
How To Incorporate More
 

Turmeric

 

Into Your Diet -- and Love It 

Turmeric

 

is an easy, everyday food ingredient. At your grocery store, you can find

 

turmeric

 

as a ground-up spice, in its original whole root form or as a juice. 

Turmeric

 

is best absorbed into your body if you consume it with another spice like ginger or black pepper. In fact, combining it with black pepper activates protection from free radicals and toxins that are often produced when cooking at high heat. 

Now that you know more about this medicinal superfood, here are ten easy ways to fit it into your everyday diet. 

Golden Egg Scramble or Vegetable Hash 

Mix a pinch of

 

turmeric

 

powder into a spoonful of coconut, avocado or olive oil and then coat a frying pan. Add vegetables or eggs (or both!) to the pan, and top with fresh grated

 

turmeric

. Lastly, top your creation with freshly ground black pepper. 

Golden (Sweet or Savory) Oatmeal 

Want a little sunshine in your breakfast bowl? For a tasty golden twist on traditional oatmeal, combine oats, plant-based milk of your choice, a pinch of

 

turmeric

 

and a pinch of ginger to a bowl. Top with nut butter, raw honey and cinnamon. For a savory upgrade, try

 

turmeric

, ginger, black pepper, paprika and garlic powder. 

Golden Pancakes 

Add a pinch of ginger, cinnamon and

 

turmeric

 

into your favorite pancake mix. Blueberries are a natural complement to

 

turmeric

, and the combo can be a delicious addition to buttermilk, whole wheat or gluten-free pancakes. 

Golden Teas and Smoothies 

For a fancy update to your favorite morning beverage, add a pinch of

 

turmeric

 

to your tea, chai or latte. Up the anti-inflammatory power of any smoothie recipe by grating some fresh

 

turmeric

 

into the blender. Add a pinch of cinnamon, cardamom

or ginger for an extra flavor kick. 

Golden Salad 

Grate

 

turmeric

 

on top of a mixed salad and finish it off with lemon-ginger-

turmeric

 

dressing. Make the salad dressing by mixing together: 

•

-  2 teaspoons of ground

 

turmeric

 

•

-  1 clove chopped garlic 

•

-  2 tablespoons peeled and grated ginger 

•

-  The juice of 2 lemons 

•

-  1 clove garlic (minced) 

•

-  3 tablespoons extra virgin olive oil 

•

-  1 tablespoon apple cider vinegar 

•

-  A pinch of sea salt and black pepper 

Golden Soup 

Grate ginger and

 

turmeric

 

into your favorite homemade soup or chili. Or, sprinkle ground

 

turmeric

 

into canned soup to increase its nutritional content. 

Golden Tacos 

Everybody loves Taco Tuesday. For a nutritional boost, sprinkle

 

turmeric

 

powder and black pepper onto the cheese in your taco, burrito or quesadilla. 

Golden Side Dishes 

Add one tablespoon of

 

turmeric

 

to one cup of rice or veggies as they cook.

Turmeric

 

pairs well with most vegetables, especially pureed kabocha squash or pumpkin, and fiber-rich whole grains, like brown rice, quinoa or barley. 

Golden Snacks 

Try one of these guilt-free snacks when hunger strikes: 



-  Toss

 

turmeric

 

with olive oil and add the mixture to oven-toasted walnuts. 

-  Add a pinch of salt, garlic powder, dried dill and

 

turmeric

 

to popped popcorn. 

- Mix

 

turmeric

, ginger, cinnamon, cloves, cumin and black pepper with olive oil and toss with chickpeas. Roast at 350°F until crispy (about 20 minutes). Cool and enjoy the satisfying crunch. 

Golden Salmon 


Make a tantalizing yet simple spice rub to complement salmon. Before putting the filets in the oven to bake, blend the following ingredients and spread the mixture over the fish (recipe is for two 12-oz salmon filets): 



1.

1 garlic clove (minced) 

2.

3 tablespoons extra virgin olive oil 

4.

1 teaspoon ground

 

turmeric

 

5.

Sea salt for seasoning 

6.

Freshly ground black pepper to taste 

It's amazing to know that

 

turmeric

 

can be used in our diet to support a variety of health goals.




 
Leave a comment
Comments will be approved before showing up.